Propulsion Order Lever Telegraph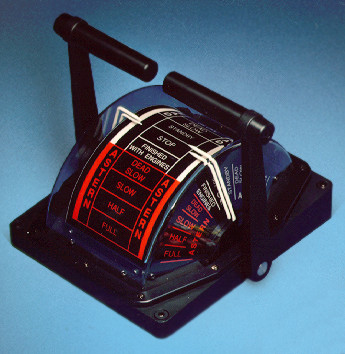 Type 5401
Application
The type 5401 telegraph transmits propulsion orders from a ship's wheelhouse to engine room.
Features
Single or Twin Screw
Multiple Stations
Bi-directional communication of orders and replies
Dimmable internal illumination
Internal horn
Contacts for external signal bells
Wrong direction alarms
Power fail alarms
Completely watertight
Corrosion resistant
Conformal coated PC boards
Rugged construction
Unbreakable transparent cover
Many different detent & friction arrangements
Easy to install
Options
Electric Shaft System
Custom Scales
Potentiometers, 4 to 20 mA Transmitters and Switches for Remote Control, Data logger, etc.
Remote telegraph repeater in IP65 enclosure
General Description
The Type 5401 propulsion telegraph is a traditional lever telegraph system. This rugged, high quality, innovative product is designed to withstand the severe environment encountered on board marine vessels. It can be used on outdoor wing consoles and can be easily retrofitted into existing vessels.
The Type 5401 propulsion telegraph provides a means of bi-directional communication between the bridge and the engine room. This communication is in the form of orders placed and acknowledged via the levers on the telegraph units.
The Type 5401 operates from multiple bridge and engine room stations. Reply pointer positioning is controlled through 4-20mA current loops. Proven circuits are used to execute the command and servo reply pointer control loops.
The system design allows for up to five telegraphs, single or twin screw, on the bridge and up to five in the engine room. All telegraphs are connected to form two communication loops; one for the reply pointers in the bridge and one for the reply pointers in the engine room.
The lever telegraph allows for two power supply inputs for each lever. This provides many different options for powering the system. The standard system has two 24 VDC power supplies to power all telegraphs in parallel. If one power source fails, the telegraph automatically operates from the other supply. If both power supplies fail at any one telegraph, an alarm contact will open. This can turn on a power failure indicator operating from a separate supply.
A wide range of operational requirements are fulfilled by many detent and friction arrangements.
Order bells, station in command transfer systems, power supplies, wrong direction indicators, limit switches, application specific engineering drawings, etc. are also available form PMC.
PMC's electric shaft system can be incorporated into the telegraph system. With this arrangement, the levers of all bridge telegraphs follow the bridge telegraph in command. This feature is also available for multiple engine room telegraph installations.
Another option is a single lever telegraph with pneumatic control.
Dimensions above Console
| | |
| --- | --- |
| Width: | 233 mm (247 mm two handles) |
| Length: | 260 mm |
| Height: | 211 mm |
Typical Installation
Washington State 116.5 m Super Class ferry, MV Kaleetan & MV Yakima.
Digital Type 5401 Telegraphs with Electric Shaft are installed on the 70.7 m Light Icebreaker - Major Navaids Tender CCGS J.E. Bernier.
94.5 m Kennedy Class Staten Island Ferry. Three of these vessels are equipped with Type 5401 Lever Telegraphs.
Other PMC Telegraphs
---
Home
PRIME MOVER CONTROLS INC.
3600 GILMORE WAY, BURNABY B.C. CANADA V5G 4R8
TEL (604) 433-4644 FAX (604) 433-5570 email:info@pmc-controls.com